Your Friday night starts right now! All your favourite The X Factor stars are back for one night only! Stan Walker and Ruby Frost open the show alongside Guy Sebastian,
Arj Barker,
Chopper and other stars, with Cassie, Tom, Benny and Moorhous making appearances through the night with Jono & Ben...
Rhys Darby & Flight of the Conchords
After the smash-hit success of Feel Inside (and stuff like that), we'll be joined by Rhys Darby and Kirsten Schaal in New York , alongside a mockumentary fronted by Jeremy Wells. Wells provides us an update on life after super-song-stardom… with an extra special treat from Flight of the Conchords fresh fromTimes Square in NYC busking and getting people to sing last years hit, "Feel Inside (and Stuff Like That)"
Satisfied? Because we've got more – so tune in to catch some surprise guests… when we said the biggest night of comedy ever, we weren't joking!
Conchords go busking in NY's Times Square
By Rachel Glucina
McKenzie and Clement hit streets ahead of US tour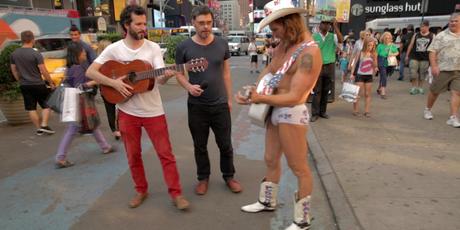 Jemaine Clement and Bret McKenzie hit Times Square as part of a segment for tonight's TV3 special, Comedy For Cure Kids: Good Sports .
They're professional musicians with a Grammy and an Oscar to their credit, but The Flight of the Conchords turned to busking in New York's Time Square on Wednesday ... all for a good cause.
Bret McKenzie and Jemaine Clement hit the bustling landmark to sing their song Feel Inside (and Stuff Like That) as part of a filmed segment for tonight's TV3 special, Comedy For Cure Kids: Good Sports. And they roped in plenty of passersby to participate, including the Naked Cowboy (aka Robert Burck).
The 42-year-old street performer (who wears only a Stetson, cowboy boots, undies and a helluva lot of chutzpah) strummed his strategically-placed guitar and sang along to the lyrics.
Last year, the charity single was recorded for Red Nose Day and entered the New Zealand singles chart at No1, going platinum and selling over 15,000 copies in its first week.
This year, Jeremy Wells, wearing his Newsboy hat and deadpan delivery, has interviewed many of the Auckland and Wellington school children who participated in the hit, and the celebs who performed it.
It's a reunion, of sorts, in typical mockumentary-style.
As for the Conchords, they're taking the States by musical storm - again. They performed three sell-out gigs at New York's McKittrick Hotel earlier this week, and tonight will take to the stage in Austin, Texas, alongside Dave Chapelle and others as they embark on a 13-stop Funny or Die's Oddball Comedy and Curiosity Festival tour across America.
It's a long-awaited tour for FOTC fans. Their last tour, only a year ago, didn't include the US. This time the comical singing duo will head to Illinois, Pittsburgh, New Jersey, Michigan, Massachusetts, Colorado, California and Arizona.
Meanwhile, back in Auckland, Comedy For Cure Kids will broadcast live from Q Theatre tonight (7:30) with 7 Days' Jeremy Corbett and Paul Ego playing hosts and a line-up of global Kiwi stars, including Stan Walker, Kimbra, Ladyhawke, Craig Parker, Anna Hutchinson, Fleur Saville, Zoe Bell, Lucy Lawless and the All Blacks.