I did see the movies the first time around but I knew nothing of Bret or Figwit at the time. I do recall hearing something about the whole Figwit phenomenon soon after the third movie. But it wasn't until I dove into WTF! after being introduced to FotC many years later that I realized that Bret actually WAS Figwit. So in my case the Conchord obsession led to my elf obsession.
We've had a fairly packed theater both times though not sold out. I didn't hear any reaction to Figgie's brief appearance in the first film. I myself was using all my powers of self control to stifle a squeal and swoon, so perhaps others were in silent rapture along with me.
Our audiences have been very good. Resounding applause after PJ's intro's and at the end of the movies; gasps, genuine laughs and stunned silence in all the right places...and no cell phones, heckling or chit chat to disturb even a moment of the experience. Sadly I've read that other audiences around the country have not been so well behaved.
We shall see if the Figwit fans can hold it together for The Return of the King.
I do think it would be amazing fun to have a few drinks and watch the movie with some INSANE fans sometime. I would love to cheer, recite lines aloud with the actors, and dress up etc. (I know, I know) I guess I'll save that for my big screen.
Anyone want to come to a party at my house?
Shots everytime a lyric from FotC's song Frodo is recited!
I forgot to mention that TORn has a cool commercial/promo before the movie as well. It's really touching to see actual footage of Peter Jackson clutching one of his Academy Awards and saying, "Don't shut down The One Ring dot Net just yet...."
They also have photos from various meet ups of the forum members...and it made me smile and think of all the good friends I've made here.
Three more days....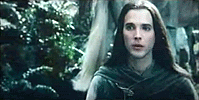 from Elf Porn Shack!