1) First time you stumbled into the Conchords? Not literally :p Was it the TV show, on the radio, a pic somewhere....
It started with my daughter showing me YouTube videos from the ONS and many of the HBO songs. I vividly remember seeing/hearing "Jenny" for the first time, and the subtle comedy was so unexpected and endearing...
and then "Bret you got it going on" almost killed me.
That night we rented Season One and marathoned it.
2) Who did you think was hotter based on that first impression?
I didn't register hot-ness from YouTube, only funny-ness. When I watched Season One, I remember thinking that the
accents
were very HOT, and Bret was kinda cute in an abandoned, starving puppy sort of way, but Jemaine always seemed to have my attention. By the end of the series, my daughter was digging Bret and in spite of myself, I was secretly crushing on Jemaine....HARD.
3) Has this opinion now changed? If so, divulge why
Yes.
*points down at siggie*
Divulge why? Oh, no one wants to hear that story again.
4) Chops or no chops.
On Bret... Some of my very favorite photos of Bret are with those chops. There's nothing like them in the universe. What was he thinking? No one knows, but I will love him forever for rocking that look.
On Jemaine....Yes, please. I think he stole my heart with those big delicious sideburns. Irresistible.
5) Beard or no beard.
On Bret...His beard is good. No one can deny it. His beard is
so
good. So, so good. Perfection.
Jemaine and any other male on the planet...no. Scruff yes, beard no. Please, no.
6) Favourite Conchords song to date? Any particular reason?
Hard question. I have favorites for the melody, and favorites for the guitar riffs. Favorites for the lyrics, and favorites for listening to Bret's voice. Even favorites for the music videos, but my favorite song for personal reasons would be Rambling through the Avenues of Time. Because they performed it live at the concert I attended in '09.
...and I had a brief discussion with Bret about the song that night, and the way Bret sings my "name" in it all French and sexy...*swoon*
7) Your current favourite pic of Jemaine or Bret. Please post and share
There is a reason why my top ten photos of Bret is not finished. I can't make these kinds of decisions.
Oh here's one I like a lot because it is equal parts sexy and hilarious.
8 ) Do you resemble Mel in any way shape or form?
It might be easier (and certainly quicker) to tell you ways in which I
don't
resemble Mel.
I'm totally travelling 12 hours by plane to a foreign country to see FotC perform a concert that I've already seen. Mel never did that.
9) We adore you, but we really wish you...........
I really wish they would have made one more season of the HBO series.
10) Thongs. Underwear or footwear?
I say thongs are both footwear
and
underwear. But, I get yelled at for borrowing my daughter's thongs. They panic and make me call them flip-flops.
11) Favourite Conchord quote? From TV/radio show or someplace else.
Oh, there are so many good ones. One of my faves... "You don't just talk about it man, you talk about it a LOT."
12) Your most prized piece of Conchords merch? (share a pic if you have one)
It's not merchandise, but this is my favorite Conchord thing.
I have a signed shirt, and signed posters too.
The guys are so generous with their time.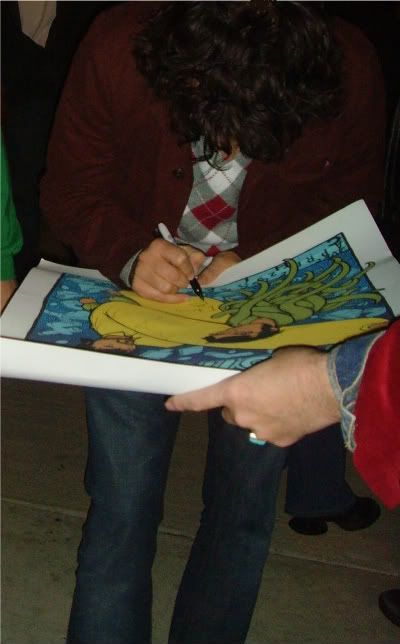 And these are still on my fridge.
I don't rearrange them so much anymore.
13) Who has more pics of Jemaine - SheWolf or Mockingbird. Discuss.
I have no idea. I
would
like to know, though.
C'mon girls, tell us! The combined photo collection of these two lovely ladies would certainly be a sight to behold. The combined up close and personal
experiences
with Jemaine are pretty mind blowing as well.
And with the mad photoshopping skills that these dear friends posess, who knows what various, exotic "photos" exist in thier private collections.
14) On the upcoming European tour what are you hoping to see most?
Bret naked in my hotel room.
Seriously, Bret (and Jemaine) from the front row.
Or at least close. I had crap seats at the concert I attended, and pretty much watched the whole thing on the big screens.
I hope we see lots of our friends getting awesome meet and greet stories and pics.
15) Following on from #14, what do you want to see least?
If the guys seem annoyed or bothered by the audience. And I
really
don't want to see the back of some huge guy's head blocking my view!
16) What's your favourite other project outside of the Conchords. Either Bret or Jemaine or both.
Bret's music. Whether with the WIUO, The Black Seeds, or his Video Kid album
...I can't get enough of his stuff.
17) Dinner with the Conchords. What would you cook?
Eggs for Bret and anything for Jemaine.
Probably something Italian. My homemade pasta is a crowd pleaser. I love to cook and you're all invited over for Sunday pasta anytime you find yourself in Iowa.
18) Best Conchord moment ever.
Meet and greet. Chicago. Hugging Bret
and talking to him.
19) Have you ever dressed as a Conchord or anything related to them for Halloween (or other party).
No.
I do have a couple of subtle "Bret" shirts that I wear. I also helped my daughter make a robot head, but I've never worn it.
20) Have you ever attempted to spin a wheelbarrow or worn a white tracksuit with red stripes while out in public.
I've done a bit of the CCTV boogie on the bike trail. Got a few strange looks.
Why did you put this in my head? Now I have an almost irresistable urge to borrow the neighbor's wheelbarrow, and maybe check ebay for that tracksuit.