Venus wrote:
Someone photoshopped another statue as Jemaine too iirc
You know Venus it's funny you should mention that. I mentioned on the Theme Du Jour thread how I've been in a Photoshoppy mood lately... well I had the bright idea to put Jemaine's head on Michelangelo's David. I mean come on, it's a natural combination.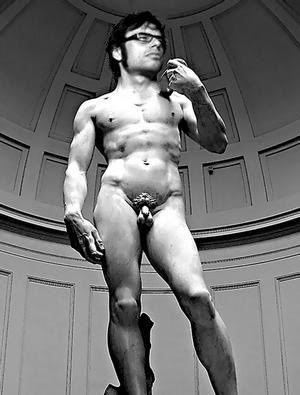 I even made a G-rated version, in case people felt it was a bit too much for them, lol. (Even though it killed me a little bit to do it.
So then I started thinking about different things I could use to cover him up, and I began to get a sneaking feeling of deja vu. I thought to myself, "Self... surely this has been done before. It's just too easy!"
And sure enough...
This was done by our illustrious SheWolf. I should've known.
She even used the same head shot.
Man! And here I thought I was being so original.
Ah well, great minds and all that.
As an aside, I am a bit annoyed that for some reason I couldn't get Mel's head to show up in color.
C'est la vie.