AAAAAAARRRRRGGGGGHHHHH. I had a whole humongus post written out and I just lost it.
So here's the abridged version.
SW - my mom used to have a feral cat colony near her house. She fed them and became quite friendly with some of them. The problem was they kept having kittens and the colony kept getting larger. She moved before it was resolved so I don't know what ended up happening to them. I can't believe I have typed out that pointless story TWICE now, lol. Sorry.
Cool pics though.
Faith, I am so jealous of you and your beaches and palm trees. Thank you for posting those so I could take a little imaginary vacation, lol.
Suzy those pictures are amazing. So clear and bright and beautiful.
Well I finally got to leave the house today, for an hour to go to the grocery store. Oh frabjous day.
My daughter came with me. Remember how she didn't want to have her picture taken yesterday? She's on kind of an anti-picture thing right now, in contrast to her usual hammy self. Anyway I took a sneaky picture of her in the rear view mirror. Suzy you know how you said you try not to use the flash? I do too - I hate the flash in fact and pretty much avoid it if possible. Well for some reason I accidentally turned the flash on (because I was fiddling with the camera while driving, probably
) and it went off but fortunately my finger was covering it so I got this groovy effect, lol.
She was mad when I showed her the picture but she got over it and then decided taking pictures of us in the mirror might be kind of fun.
Unfortunately they all came out blurry but here is one anyway.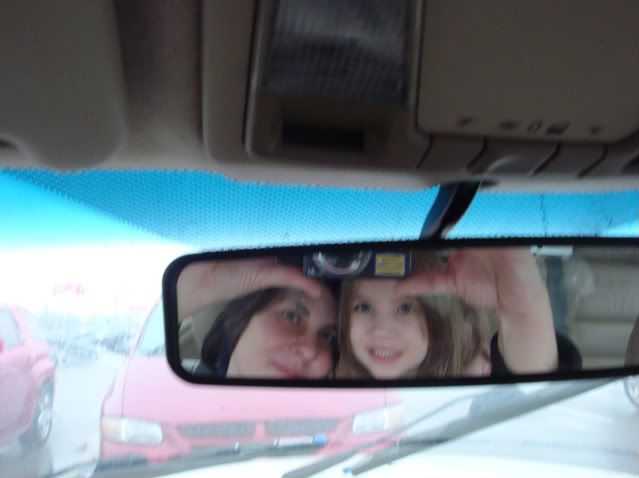 Then we went to the cheap aquarium, I mean the seafood counter.