Yay! I started this yesterday and finished it today!
1) First time you stumbled into the Conchords? Not literally :p Was it the TV show, on the radio, a pic somewhere....
Satellite radio was playing Jenny, and thank goodness I was in the passenger seat because I was dying the whole time.
2) Who did you think was hotter based on that first impression?
I first saw them performing on youtube videos, I think I found them both equally attractive. I think most of my initial attention was focused on the sheer genius of them.
3) Has this opinion now changed? If so, divulge why
Oh yes, haha. Love 'em both, but I'm a Jemaine fan.
4) Chops or no chops.
Chops. But I accept
all forms of facial hair.
5) Beard or no beard.
It's all so good, its hard to choose. But I love beards in general.
6) Favourite Conchords song to date? Any particular reason?
If you're into it. Because to me its the perfect song.
7) Your current favourite pic of Jemaine or Bret. Please post and share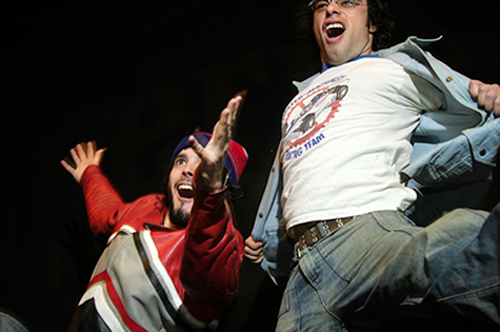 Its been my favorite for quite a while.
8 ) Do you resemble Mel in any way shape or form?
Perhaps I mentally resemble her.
9) We adore you, but we really wish you...........
Gave a little more notice when it come to your tours.
10) Thongs. Underwear or footwear?
Probably footwear, unless I have some singles on me.
11) Favourite Conchord quote? From TV/radio show or someplace else.
Man, I have no clue. I LOVE quoting the first dream scene Bret has with Jembowie. I have that thing memorized.
12) Your most prized piece of Conchords merch? (share a pic if you have one)
13) Who has more pics of Jemaine - SheWolf or Mockingbird. Discuss.
Can Bret be an option?
14) On the upcoming European tour what are you hoping to see most?
Gorgeous posters and Nigel. (Since we know Bret and Jemaine are guaranteed to be there.
)
15) Following on from #14, what do you want to see least?
Heckling. Or mean people to be more vague.
16) What's your favourite other project outside of the Conchords. Either Bret or Jemaine or both.
Love the Video Kid album. I listened to it all the time last year. For Jemaine it was Gentlemen Broncos.
17) Dinner with the Conchords. What would you cook?
If I can get away with ordering out and making it look like I cooked- I'd go with that.
18) Best Conchord moment ever.
UH, TOUGH MUCH. First thing that came to mind was when Jemaine remembered my name at Fantastic Fest. But a more Conchord moment would be hearing Jenny live at their Vegas show, since it was the first song I ever heard.
19) Have you ever dressed as a Conchord or anything related to them for Halloween (or other party).
I've worn a bandanna before, does that count as dressing as Dave??
OH! For the Vegas show I wore a knock-off of the Season 2 Bret socks with my rolled-up jeans. (That probably still doesn't count.)
20) Have you ever attempted to spin a wheelbarrow or worn a white tracksuit with red stripes while out in public.
Why?! What have you heard??