nonchalant obsession wrote:
Oh wow thanks, Sherry.
Where to begin....
*mixes Sherry a strong vodka tonic*
First, I'd like to reiterate a few of the questions I just asked on the other thread.
So you experienced both the Humourbeasts and FotC at Edinburgh. Were both gigs of equal importance at the festival? I guess I'm trying to piece together if at this point the guys were involved in different projects, just waiting to see what would take off? Or is it more a display of what they happened to be into at the moment. Were they trying to make a living at it?
Most welcome. Happy to try to answer stuff.
Yes I did. I remember finding out about them and persuading the girls to go see them with me
As the show was on directly before the Conchords it wasn't too difficult. There were a few reviews on them and the concept sounded like my kind of thing. I must admit that I actually enjoyed the Humourbeasts show more than the Conchords. I was cracking up laughing so much at Taika and Jemaine. We had front row seats and they were only a few feet away. It was a frenetic performance. There were not many people there to see them. But everyone was laughing and enjoying the show.
I must say once more, just in case people are wondering, we (Iris, Jen, Tanya and myself) really didn't go to the Fringe just to see/meet Bret. We had been friends online for ages and had all grown very close. So the trip to Edinburgh really was an excuse for us all to meet up, have a holiday and hang out for a bit. Seeing the Conchords was an extra. We only were asked after we had decided to meet up there to take part in the Figwit docu. That all came about after we had made our plans. We had been quite happy to just go see the Conchords perform and never tell them who we were. But that all changed of course
Neither were really rated at the start of the Fringe. Both were unknown entities. By the end of the Fringe I recall the Conchords had a very good word of mouth and lots of fellow comedians had discovered them. They made a fair few contacts there that have worked with them in more recent times. And who became their friends. I think there was a fair bit of attention given to the Conchords because of the Figwit thing. I recall it made the front page of the Fringe site, was pretty much everywhere at that time. So a fair number of people went to see them simply because of the LOTR connection. Not because they had any clue who they were or what they did. They were Tolkien fans and so Bret rated on their radar because of his notoriety. If he hadn't been in FOTR some people would never have dragged their backsides along or known he or they exisited. In fact I remember a fair group of ladies who were simply LOTR/Tolkien fans who just wanted to see Bret for his Figwit thing.
Iris and I said we were pleasently surprised that this guy we spotted, poked fun at and all that was actually a cool talented guy and not some dickhead with an ego. Figwit could have been o so different if Bret hadn't been the person he is.
I recall the Humourbeasts not going over so well overall. I don't think they ever pulled in quite the same interest or were talked about in such a way. Yet I thought they were funnier in many ways. I think because both Jemaine and Taika at the time were still developing their art, their technique, it perhaps needed a bit more time, a couple of years perhaps to hone what they were doing. I don't think they really gave it that chance for whatever reason. Not as a stand up gig as Humourbeasts.
I also remember Taika saying how much he hated being in Edinburgh performing like he was. It was crappy for them all. Shacking up in tiny places, no money, the whole trip putting them in the red, small audiences in a cellar was not ideal. Also having to promote their own shows, get flyers out, meet people and so on. Taika never wanted to come back to an event like the Fringe and perform a live act like that again was more or less what I recall him saying. He missed home, his girlfriend and Edinburgh wasn't the greatest experience for any of them the first time round.
By the end of the Fringe the Conchords audience had grown, there was great word of mouth and they made some important connections. Also they finally had their Folk The World CD pressed and shipped over and were able to sell some while in Edinburgh. It also became available online to purchase then but there was always a long wait as at the time they were not able to afford to press masses.
I recall the BBC getting them to do a small thing for Radio 4 or something off the back of the Fringe and the interest. The following year or two they obviously got enough attention (Perrier nom) and did enough to get a better project with the Beeb in 2005. They also met James Bobin the second year in Edinburgh.
I think, like any artist going to the Fringe they went with high hopes, found it a bloody hard slog and it set them back a lot of money. But its the place to go to try to get noticed. And for the Conchords it worked. For the Humourbeasts it didn't. Perhaps if they had gotten better feedback, ratings and so on, Jemaine and Taika may have pursued the live stuff more. As it was they went home, did the play and never did any stand up as Humourbeasts again (at least not to my knowledge).
Taika was already dipping his toes into other areas. It was clear back then he was more a behind the scenes guy than the one out front. He had his art, displayed in Berlin (and other places IIRC) and more. He actually stood out far more than either Bret or Jemaine back then. But then I never heard him sing
All of them seemed tired by it all. But were lovely, gracious and charming the whole time.
Edinburgh 2002 was also where they first met Rhys iirc. Rhys was insane. His show was nuts. He was wearing a John McEnroe bandana and was always hyper. A great guy and kept us laughing all night.
nonchalant obsession wrote:
Just how much has the band and the show itself changed/improved from that first show you saw? Had they been a 'band' for very long at this point? What songs did they perform?
Is this from that gig?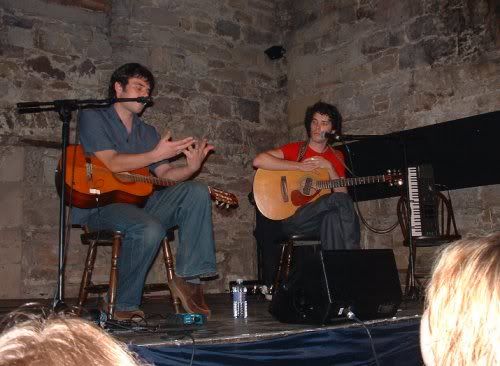 Nope, that's not from the gig. At least I don't think so. O wait, it might be. We had the front row so if it is, thats the back of Jen and Tanya's heads. Tanya is a blonde so I don't think it is from that actual gig.
As to how much things have changed or improved....
They have become smoother, more polished. Some of it now, hearing their banter, doesn't work for me anywhere near as well as them in the early days. I guess because I've heard it so many times now. I also think they have become far more sexual than they used to be. It was never played on back then. The most we had were a couple of songs (and banter about pensioner kisses etc). Iris and I actually really liked they didn't use anything sexual or swear (well once or twice max) in their show back then. It made it so much more original to so much stuff being performed at the Fringe.
They had been together a few years but this was their first proper stint iirc. A long stretch at the biggest comedy festival in the world.
I don't think their act has changed all that much otherwise. I think what has changed is peoples expectations of them. I think we can look at the HBO series and the American audience for that. I don't mean that as having a go at the US or anything, just that that market is where things really changed the Conchords. How they were expected to perform, touring old material off the back of the TV show etc. I have said before, I am used to comedians touring a new show, not repeating old material. So I found that very hard to get my head round. The Conchords became known in the US for their TV series, which of course was so very different from their live set to that point. The innocence of their act was lost. It became a Greatest Hits tour and the gentle genius comedy was passed over for the songs. In the early days they used to talk between songs, with each other, to the crowds, real banter. What I've seen of the US tour wasn't really like that.
As for songs, I can remember Angels, Bus Drivers, Pencils, Ladies of the World, Petrov, KISSING, Albi, Frodo (dedicated to us), Bowie, Mother'ukers, Leggy Blonde (both of those were very different creatures back then and both had us cracking up). Foux De Fafa was a proper song. Classic stuff. There were more, but I can't recall them all. I am sure they did a couple that have never been released or performed since. I shall dig into my MP3 collection and see what I have.
Did that help?