jillbean wrote:
Sadly, I do not. Nor do I have a good technique for cutting up a mango, so should anyone have ideas for that please share! I currently cut off the sides and then stand and eat the "meat" off of the seed over the kitchen sink! Classy, I know.
I eat quite a few mangoes, which makes me a cannibal I guess.
I used to cut the skin away with a small knife, then slice the fruit of of the seed, but it was messy and time consuming. Now, I usually cut the fruit away from either side of the seed, then I'm left with 2 mango halves with the skin still on. I make a few vertical cuts into the flesh (without piercing the skin) and a few horizontal cuts, so that it looks like a checkerboard. Then, you turn the skin inside out, to make the cubes of fruit pop up like this: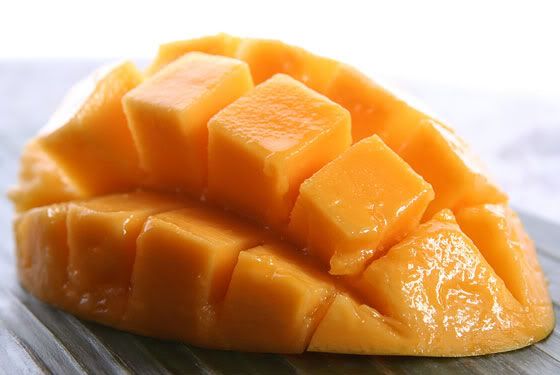 Then, just cut the cubes away from the skin with a small knife. I'll cut the little bits of fruit away from the seed too. I don't want any of that fruit going to waste.
Sometimes, I'd rather have my mango in slices, so I have to peel it. The other day, I had success peeling a mango with a veggie peeler, but I had to use a knife to make the initial cut, because the peeler wasn't sharp enough to pierce the skin. I was able to peel it very quickly that way.