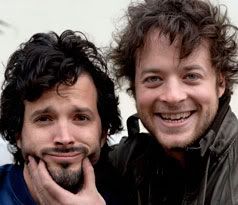 Quote:
Two well-known faces of Australasian comedy will be based in the south early next year to film Robert Sarkies' latest movie.

Two Little Boys, based on the book written by Duncan Sarkies, will star Bret McKenzie of Flight of the Conchords fame and Hamish Blake, well-known for his appearances on Rove Live.

The cast was officially announced today, and director Robert Sarkies said he was pleased to be filming his third feature in Southland and the Catlins. Sarkies previous two films were Scarfies and Out Of The Blue.
"I thought at some stage I better make a film outside of my home town of Dunedin so I figured I'd buck the trend and head south,'' he said.

"I've already been blown away by the warmth shown to the production by the people of Invercargill. From the mayor down there has been a can-do attitude that has encouraged us to shoot there.''

Two Little Boys has been described as an irreverent comedy about Nige (Bret McKenzie) and his recently estranged best mate Deano (Hamish Blake). It follows Nige and Deano's "riotous misadventures''.

"As they struggle with their imploding long-term friendship which has been put under pressure by an unfortunate incident involving a hot meat pie, a ginger cat and the untimely death of a Scandinavian soccer star.''

Producer Vicky Pope said the story had everything.

"A crazy road trip, a love story, wild animals and even a bit of attempted murder. Audiences for this film are in for a very funny ride.''

Bret McKenzie said there was "only so much time you can spend in New York before you wake up and think 'Take me to Invercargill'. I can't wait to get down there and make a New Zealand film about New Zealanders, and an Australian."

Pre-production for Two Little Boys has been underway in the south for several weeks now, and filming begins in January. Southern Institute of Technology students are involved in different aspects of the film as interns.
Source