Yeah I really like YDLMA too. I voted for it. Sorry nonch.
Nonch should post the picture she made for it that she didn't get to use though, it was really cool.
The poster category was so hard to vote for, I liked them all. I disagree with the best Jemaine tour pic though, sorry if the person who took it is on this forum. It's a nice picture but I thought one of the first two should have won. Jemaine's eyes looked so beautiful in both of them.
Anyway, that's all water under the bridge - what's important now is how good we look at the awards ceremony, lol.
SW you look amazing but I seem to remember you wore that same "outfit" last year.
People will talk. I think Kathy Gifford already tweeted some catty tweet about it. She's just jealous.
So, I Simpsonized myself all up and I think I look great... if I was going to go work out in the yard.
Clearly this is not going to cut it for some fancy awards ceremony. So I borrowed a dress from Jessica Rabbit.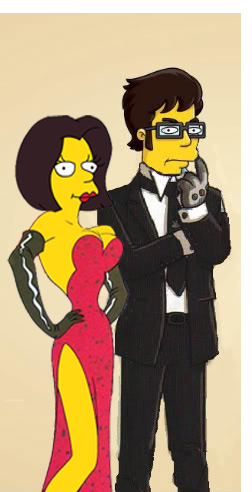 What a difference, huh? And look who I met on the red carpet! I didn't get to talk to him much though, he seemed preoccupied with finding the buffet. Hopefully I'll catch up to him later though. I mean, it's not like I even won anything... I'm basically just here for the after party.